1 property in San Miguel de Abona for sale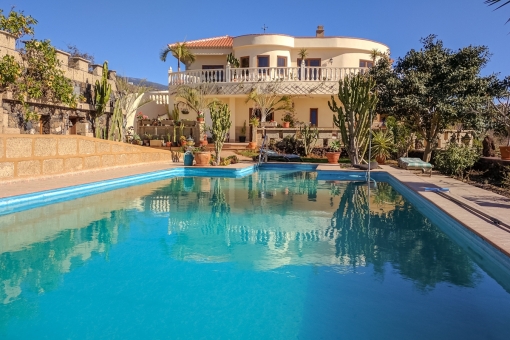 San Miguel de Abona, Detached villa with stunning views of mountains and sea
constructed:
297 m²
plot area:
12.000 m²
bedrooms:
4
price:
€ 1,200,000.-
Porta Mondial - your leading real estate agent in San Miguel de Abona!
Do you have any questions about a property in San Miguel de Abona? We will gladly respond! Please give us a call or send us an e-mail.
Information about San Miguel de Abona and surrounding area from Porta Mondial:
San Miguel de Abona, situated at Tenerife's sun-drenched southern coast, is home to two excellent facilities for golfers: Golf del Sur has 27 holes, and is famous because of his striking contrast of deep green lawns and the volcanic rock of intermediate Barancos. The 18 hole course Amarilla Golf impresses with its spectacularly fairways and greens running to the sea, on Hole 5 even across a small bay of the sea.

Both golf courses are surrounded by extensive settlements with same names, which have many holiday apartments, houses and villas for every taste. Meanwhile, Golf del Sur and Ammarilla Golf are joined together by a road so that the distance to the shops, hotels and restaurants from all over is very short.

And San Miguel de Abona offers much more: West of Amarilla Golf extends the natural monument of Montaña Amarilla created by phreatomagmatic explosions (sea water in contact with magma), also is a fossil dune a special geological feature. On the lookout points of La Centinela and El Fronton you may enjoy a wide view over a landscape that even today is a center of the South for the cultivation of wine, fruit and vegetables.

Of historical interest are important testimonies of the Guanches, as the necropolis of Uchova or the caves and settlement marks on the rocks of e.g. Orchilla, El Pilon or in the range of Guarchago and La Aldea. For culturally interested there is also, besides beautiful religious buildings, the museum "Casa de El Capitán" of traditional art.