Real estate market Munich – Germany's most popular city
Munich is the city with the highest quality of life in Germany, and for years the Bavarian capital has led the city rankings in this category by a clear margin. Indeed, Munich offers everything which modern people desire from their city – an excellent infrastructure with public transport, direct highway connections including the airport, and a wide range of work offers from global players to creative start-ups.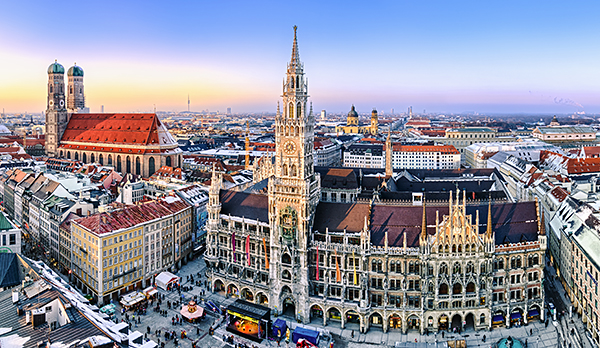 Are you considering the sale of a property in München?
We will find the right buyer for your house or flat. Find out about the modern marketing options that an international network offers you. Avail of our free valuation service. Give us a call on +49 89 24 24 22 05 or send an e-mail to muenchen@portamondial.com. We look forward to hearing from you.
If you already have an idea of what kind of new property you would like, get in touch with us. We will undertake a targeted search for your dream property, entirely in line with your wishes.
Porta Mondial Munich - your estate agency for München.
Your property consultants in München
When you are buying your dream property, we place all of our longstanding experience in the area of residential and holiday property at your disposal. Apart from our regional properties, our portfolio also contains a wide range of interesting holiday properties in Germany and Spain, whether for your own use or as a profitable investment. We handle everything from search and selection to key handover. We are happy to advise you on financing options and on planning your move. We are familiar with special legal and fiscal aspects, and can offer you legal guidance in conjunction with a highly respected law firm.

Special clients for special properties deserve special service. Porta Mondial clients first and foremost appreciate our consultants' precise local knowledge, as well as their extensive market know-how. Discover the quality of our services for yourself. You can contact our consultants by telephone on +49 89 24 24 22 05.
A high recreational value thanks to mountains and lakes
In addition the people of Munich enjoy a range of leisure activity offers which many tourist destinations can only dream of. Right in front of their door are the Starnberger Lake, Ammersee, Wörthsee, Pilsensee and Lake Weissling. The five lakes of the Munich environs are all only 15 to 20 minutes away by car, or accessible easily by the suburban railway. Coming from the north the peaks of the nearby Alps can be seen behind the city – in not much more than an hour Munich residents can be skiing in Kitzbühl or Reit im Winkel, and in summer they love to drive over to the Gardasee for the weekend, only around 3 hours away by car.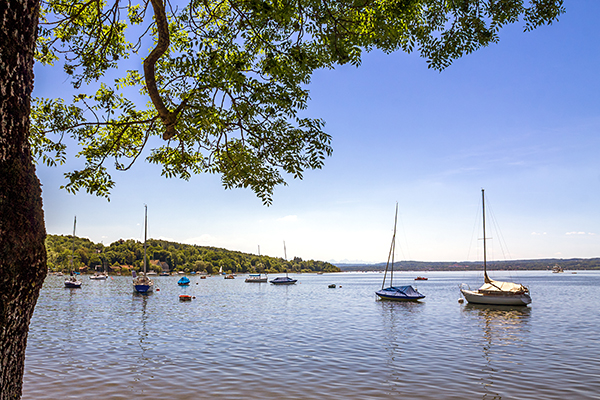 The renowned Ludwigs-Maximilianeums University is situated directly at the English Garden, the 'green lung' of the city. With 112.000 students the Isar metropolis is one of the biggest university cities in Germany. In summer it is traditional to meet in one of the many beer gardens where the guests can take and eat their own food. Munich is the most popular city in Germany and its population increases from year to year by around 25.000 people, so that by 2035 the number of its inhabitants will have increased from today's 1.53 million to over 1.7 million people.
The real estate market in Munich has boomed for a decade
A fact which is reflected particularly on the housing market in the form of ever-increasing prices, as Munich is not only the most desirable real estate location in Germany, but also the most expensive. For 2017 the the Institute of the Real Estate Association IVD Süd calculated an average price per square metre in Munich city of 6.200 euros.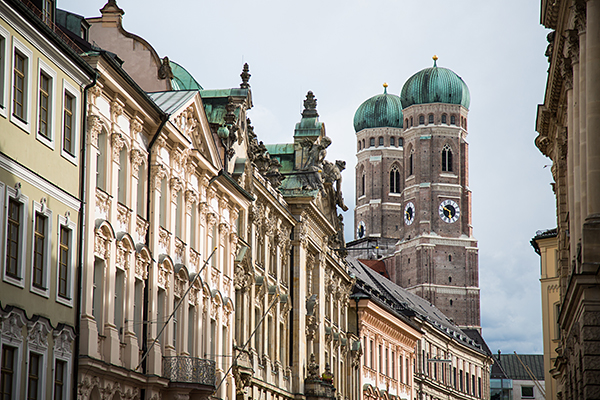 The market volume is impressive – alone in 2016 almost 13 billion euros were spent on real estate. The rental is currently around 16 euros per square metre, well above the national average but it should be said that the rent-clientele in Munich have an above-average solvency. Measured by the relation between household income and rental costs people in Freiburg, Stuttgart, Cologne, Mainz and Rostock pay even more for their accommodation. The Frauenhofer Institute in cooperation with Wealth Cap came to this conclusion. Their location analysis 'DNA of success – city of the future 2040' attested Munich as the real estate location of the future.
Porta Mondial city real estate shop in Munich
Normally it is not easy even for businesses to rent an object in this prime location, but both men are very well networked in the area and so hear of real estate offers sometimes before they are offered on the open market. For this reason the Porta Mondial real estate website is, for them, more a visiting card than a presentation of their portfolio: "Many of our owners do not want their property offered publicly on the website and as a rule we sell directly to buyers from our customer base" confirms Daniel Kraus.
Top locations real estate market Munich
Porta Mondial's focus is on the top locations north of the Isar: Ludwigstadt, Maxvorstadt, Schwabing, but also Neuhausen and Nymphenburg. The district of Neuhausen connects Maxvorstadt with Nymphenburg and has, with the lively Rotkreuz square its own district centre. The district of Nymphenburg is as noble as its namesake, the Nymphenburg palace. The pompous summer residence of the Bavarian kings was built in the style of Versailles and its two approaches with a small canal are lined with sumptuous villas, making this district one of the most desirable and expensive locations in the city of Munich. To the north Neuhausen merges with the district of Gern with its well kept terraced and detached houses, which up to ten years ago was still a real insider-tip and now also counts as a top city location.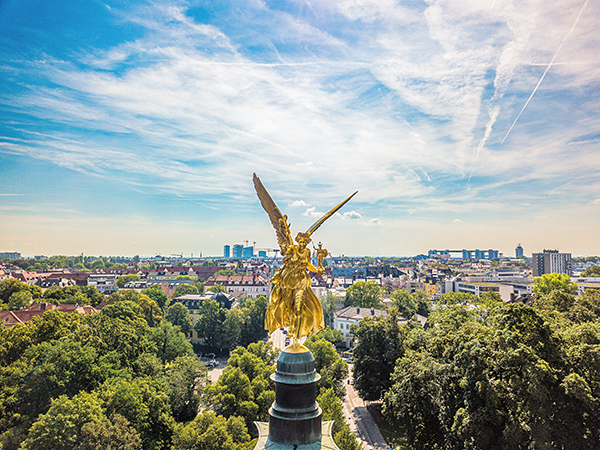 According to the Munich real estate report of the Hypovereinsbank the square metre prices move between 7.000 and 13.000 euros, although with very desirable objects an upper limit hardly exists.
Experts recommend the purchase of old buildings in Munich
Similar to the analysts the manager-team at Porta Mondial sees further value-appreciation potential in Munich – provided the location is correct. Both men have over a quarter of a century of experience, know every street and exactly what is happening in 'their' district and which projects are planned in the near future.
Financing the purchase of real estate in Munich
The current interest level and the high real estate prices make financing an important subject for real estate buyers. Here, too, the Porta Mondial team supports its clients from A to Z and if required arranges competent banking partners with fair conditions.
Contact us
Do you wish to buy or sell a property in München? Give us a call. We offer personalised advice. You can contact our property consultants seven days a week on +49 89 24 24 22 05.

Or write to us. Simply use the form below or send an e-mail to muenchen@portamondial.com. We will reply to you without delay.






Thank you very much for your enquiry!

We will send you the required information immediately.

Or contact us by calling.
Our consultants are at your disposal 7 days a week.
Imprint
Information in accordance with §5 TMG (German Telemedia Act):
Porta Mondial München
Porta Mondial GmbH
Theresienstraße 21
80333 Munich, Germany

Represented by:
Joachim Semrau

Contact:
Tel. +49 89 24 24 22 05
E-Mail: muenchen@portamondial.com
Commercial register:
Entry in the commercial register.
Registry court: Munich District Court
Register number: HRB 251318

VAT:
VAT ID number pursuant to § 27 a of the Value Added Tax Act:
DE 261484838

Supervisory authority:
IHK München und Oberbayern
Max-Joseph-Straße 2
80333 München
Permission according to §34c Gewerbeordnung (GewO):
granted by Landeshauptstadt München, Kreisverwaltungsreferat (KVR-III/211), Ruppertstr. 19, 80466 Munich, 14.10.2019.

Responsible for the content of www.portamondial.com/de/muenchen and www.portamondial.com/en/munich according § 55 Para. 2 German Interstate Broadcasting Treaty (RStV):
Joachim Semrau
Porta Mondial GmbH
Theresienstraße 21
80333 Munich

Information on Online Dispute Resolution
The EU Commission provides an online platform for online dispute resolution at the following link:
http://ec.europa.eu/consumers/odr
This platform serves as a focal point for the extra-judicial settlement of disputes arising from online sales or service contracts, in which a consumer is involved. The provider is neither willing nor obliged to participate in a consumer dispute resolution procedure in accordance with the VSBG. Our e-mail address is muenchen@portamondial.com.
Liability for contents
As a service provider, we are responsible in accordance with § 7, Para.1 of the German Telemedia Act (TMG) for our own content on this site in accordance with general legal provisions. According to Articles 8 to 10 of the TMG, as a service provider, we are not however obliged to monitor or, under certain circumstances, to investigate externally transmitted or stored information or to look for indications of illegal activity. Obligations to remove or block the use of information in accordance with general laws remain unaffected. Any liability in this respect, however, is only possible from such time as we receive knowledge of the specific breach of law. Should any legal violation come to our attention, we will remove the offending content immediately.
Liability for Links
Our website includes links to third-party external websites, over whose content we have no influence. Therefore, we cannot accept any liability for these external contents. Individual providers or operators of the linked pages are always responsible for their content. The linked pages were checked for possible legal infringements at the time of linking. Illegal content was not apparent at the time the links were created. Continuous monitoring of the content of linked pages is not, however, reasonable without specific indications of legal violations. Should any legal violation come to our attention, we will remove such links immediately.
Copyright Law
The content and works on this website which were produced by the website operator are subject to German copyright law. Copying, editing, distribution and any use of the contents outside the limits of the copyright laws require written consent from the author or creator. Downloading and copying these pages is only permitted for private, non-commercial use. Where the content of this website was not created by the website operator, third party copyright has been respected. In particular, third-party content will be identified as such. Nonetheless, if you become aware of any copyright infringement, we request that you provide us with the corresponding information. Should any legal violation come to our attention, we will remove such content immediately.
The Legal Information section also applies to the following social media profiles:
Facebook: https://www.facebook.com/portamondialmuenchen/