12 properties in Costa de la Calma for sale
Porta Mondial - your leading real estate agent in Costa de la Calma!
Do you have any questions about a property in Costa de la Calma? We will gladly respond! Please give us a call or send us an e-mail.
Information about Costa de la Calma and surrounding area from Porta Mondial:
Stunning sea views in Costa de la Calma
Costa de la Calma, the "Quiet Coast" lives up to its name. Although the resort is home to many apartment hotels, it is not crowded even in high season. In the summer guests are joined by around 1,300 residents who have settled here in often spectacular properties. Especially popular are hillside houses that naturally have stunning sea views. And a sea view also means a season ticket for the nightly spectacle of the sunset in Costa de la Calma.
Those preferring not to be alone on the terrace, but in the company of the Sundowner, go to the iconic "El Chiringuito", a beach with a long tradition. The white, palm tree decorated enclosure has stood here since 1968. Alfonso the bartender mixes delicious cocktails and plays relaxed reggae to set the mood. And a sense of romance he has. Because in addition to the concrete terrace where you can rent chairs, a small bridge leads to the "Island of Love" as Alfonso calls it: an upstream rock, which is popular with love birds in the later hours.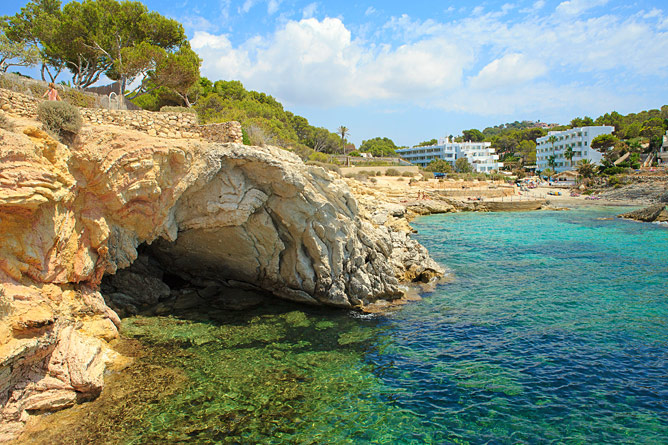 Beach Cala Blanca
Close to the beach bar are the three small but fine sand beaches. More than ten to fifteen towels wouldn't fit here. If you prefer a wide sandy beach with the associated infrastructure, you will find it in the neighbouring Santa Ponca which also offers a variety of shopping opportunities and in the summer, a vibrant nightlife.
As for recreational activities, Costa de la Calma, however, leaves no wish unfulfilled: The marinas of Santa Ponsa and Port Adriano are located in the immediate vicinity. Also, four golf courses (Golf de Andratx, Camp de Mar, Santa Ponsa I and II and Golf Poniente) are within easy reach.
In addition, the area is a good starting point for cycling and hiking tours. And snorkelers and divers love the intact underwater world on offer. Incidentally, Costa de la Calma has an important place in Mallorca's history. In 1343 the troops of Pedro IV of Aragon arrived here, conquered the island and overthrew the Majorcan king Jaume III. Over 100 years of independence in Mallorca came to an end.
Restaurant tips from our real estate agents in Costa de la Calma
Can Tomas: Family restaurant for lovers of German cuisine. Traditional Swabian fare and German beer.
Bistro Steak House 800 Grad Celsius: The tip for steak fans on the island.