3 properties in Ciudad Jardin for sale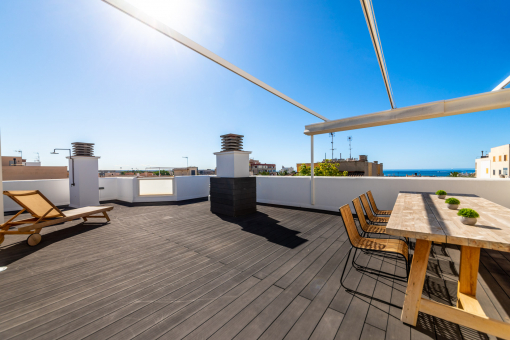 Ciudad Jardin, Penthouse-apartment with private roof terrace, jacuzzi and sea views near to Portixol
constructed:
247 m²
plot area:
-
bedrooms:
3
price:
€ 749,000.-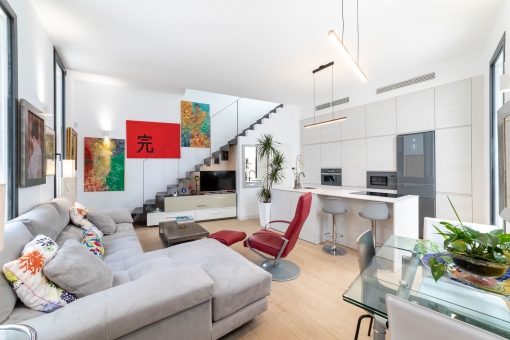 Ciudad Jardin, Minimalistically-designed duplex single-family house with parking space and roof terrace close to the beach
constructed:
178 m²
plot area:
-
bedrooms:
2
price:
€ 575,000.-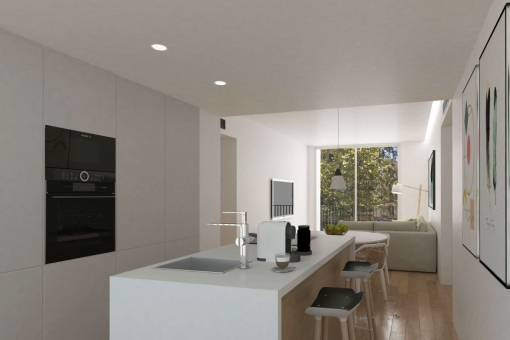 Ciudad Jardin, Apartment on the second floor of a newly built residential complex in Es Coll d'En Rabassa
constructed:
104 m²
plot area:
-
bedrooms:
3
price:
€ 300,000.-
Porta Mondial - your leading real estate agent in Ciudad Jardin!
Do you have any questions about a property in Ciudad Jardin? We will gladly respond! Please give us a call or send us an e-mail.
Information about Ciudad Jardin and surrounding area from Porta Mondial: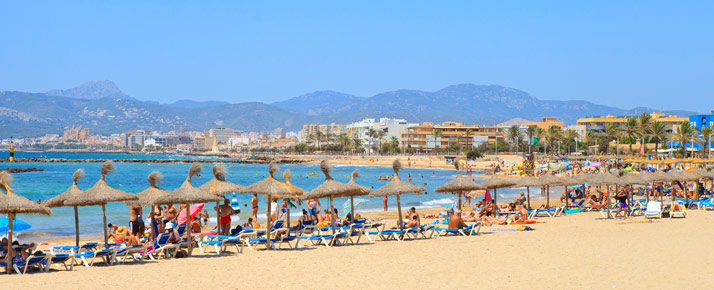 Wide sandy beach of Ciudad Jardin
When Palmas city planners designed the "Garden City" Ciudad Jardin around 100 years ago, they had big plans for it. A spacious luxury resort should line the attractive beach near the city. In fact, the Hotel Ciutat Jardí opened its doors in 1921. However, this is not just any four-star hotel. The Ciutat Jardí with its modernist neo-Moorish style is architecturally unique - from the outside many consider it a religious building. In 1986 the building was raised to the rank of a national tourist attraction. Anyway, the house has -as first hotel on the Playa de Palma - has a permanent place in the history of Mallorca.
Since the twenties, the guests of the Hotel Ciutat Jardí enjoy the proximity to the beach and the island's capital. And they should all be glad that the ambitious development plans are largely fizzled.
For the district is still considered as an insider tip in the south of Palma, both for holidaymakers and residents. The gently sloping sandy beach is well maintained, 450 metres long and 35 metres wide. As it has a gentle slope it also offers safe bathing for families. They feel safe here, thanks to a large adjacent children's playground.
Ciudad Jardin is pleasant, unspoilt and offers clean, open spaces. The infrastructure leaves nothing to be desired. In the immediate vicinity is a commercial area with supermarkets, banks and boutiques. If you want more extensive shopping then Palma is 10 minutes by bike. In the well-developed promenade that connects El Arenal and Palma, you can also enjoy great inline skating or just strolling.
After work, many people flock to Ciutat Jardin to enjoy the evening with a sundowner or a good meal. A hard to overlook gourmet meeting place is the "restaurant Aqua"which opened a few years ago. Top chef Richard Nussel pampers his guests here with creative Mediterranean cuisine. His "blue house" in the first line is a real eye-catcher, as well as the 7-course gala dinner, which is served here every Saturday to piano sounds.
Another top address is the oceanfront restaurant "El Bungalow", which is famous for its paella and seafood dishes. If you want to get one of the coveted spots on the terrace here, you should reserve a table. Moreover, "El Bungalow" is also a remnant from the early 20s, when the Ciudad Jardin was designed. Originally a number of luxurious holiday homes were planned in first sea line. But hardly anyone regrets that only "El Bungalow" was built at the end.
Only in this way could Ciudad Jardin be what it is today. A suburban, clean and relaxing residential area which is popular with holidaymakers and residents and on the rise for the real estate market.