Property and the property market in Koblenz
Thanks to its outstanding location at the "Deutsches Eck" headland where the Mosel meets the Rhine, Koblenz offers its around 113,000 inhabitants a quality of life that is without compare in Germany. More than half of the city's 30 districts border on one of the rivers or offer a captivating view of the water from the foothills of the Hunsrück mountains.
The premium locations include the classic villa district of Oberwerth, directly on the Rhine, and Pfaffendorf on the opposite side of the river which, owing to its sunny position on the eastern bank, is also known as the "Nice of the Rhineland". No less desirable are the properties with panoramic views such as are to be found in the Karthause district between the Rhine and Mosel, or Pfaffendorfer Höhe on the eastern bank of the Rhine. Those who love Art Nouveau buildings will feel completely at home in the southern Vorstadt, another very good location in Koblenz and also home to the Porta Mondial Koblenz, estate agency, at St.-Josef-Straße 25.
Property price developments in Koblenz
As in the rest of Germany, prices in Koblenz have risen in recent years but not as fast as in some other cities. With an average square-metre price of 3,500 euros for freehold properties in good to very good locations and net rent excluding incidentals of around 9.50 euros per square metre, the fourth-largest city in the Rhineland-Palatinate ranks in the mid-range price bracket in German comparison according to a survey by the property magazine Bellevue, and in direct comparison is significantly below the prices in the neighbouring cities of Bonn (60 km away) and Mainz (90 km away).
In premium locations prices range between 480,000 and 1 million euros depending on fit-out. According to the city's expert real estate committee in 2016 a detached house in Koblenz cost on average 361,000 euros. In year-on-year comparison this was an increase of around 20%. However, only 49 detached houses were sold in Koblenz last year – indicating the real problem of the property market in Koblenz: supply in this segment is extremely tight.
The situation is similar for terraced and semi-detached houses; the expert committee recorded 67 transactions last year. This means that 116 houses were sold across the entire city area in 2016; that figure stood at over 200 just two years ago. Here too, square metre prices have risen significantly in recent years; property buyers will have to pay an average of around 2,000 euros per square metre for a terraced or semi-detached house.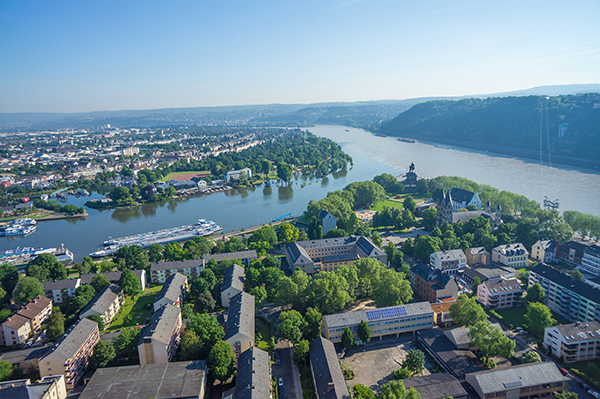 Good locations in Koblenz
Koblenz offers not only idyllic locations close to the water, but also excellent recreational amenities. Whether cycling through the nearby wine mountains, taking a hike through the Westerwald forest, or spending an afternoon at the city beach, families, students and seniors all feel equally at home here.
This former garrison city is still one of the Federal Armed Forces' biggest bases in Germany, being home to the headquarters for internal security. The many civil servants not only guarantee rent security for landlords, but also ensure Koblenz's reputation as a quiet and peaceful city.
The upper city centre is not sleepy however, thanks to around 15,000 students at the University of Koblenz-Landau, which is split across three locations: Koblenz, Landau in the Palatinate and Worms. A good half of the students attend lectures at the campus in Koblenz in the Metternich district which converts this Mosel district into one of the most desirable areas for students, and makes Metternich's beautifully designed city beach a very lively spot.
Moving along the Mosel, Moselweiß, Güls and Lay are other residential districts in a good location characterised by a healthy mix of detached houses and apartment buildings. According to the city's official statistics, Metternich in particular is very popular with incomers, as is Wallersheim on the Rhine, another good residential area. Taken together these two districts have the highest rate of incoming residents.
Arenberg and Arzheim are not beside the water, they are directly adjacent to the Westerwald forest, making these districts desirable and good residential locations as well.
Koblenz is growing by some 100 inhabitants per year on average – a positive indicator of the city's sustainability, although it is increasing pressure on the regional property market. Koblenz is primarily trying to cope with increased demand with infill buildings and the conversion of the former French barracks has already been concluded. According to the City of Koblenz's official living space statistics, a total of 329 residential buildings with 884 residential units were built between 2012 and 2016, of which detached and semi-detached properties accounted for 80%.
Historic city with flair
Koblenz is one of Germany's oldest cities, having already been settled during the Stone Age. Over 2,000 years ago the Romans founded the "Confluentes" (flowing together) fort where the Mosel and Rhine meet; during the Middle Ages Koblenz flourished under the rule of the archbishops of Trier, a time when many palaces and fortifications were built including the well-known Ehrenbreitstein Fortress. High above the Rhine, this fortress affords not only amazing views but also offers cultural pleasures by staging regular concerts. Koblenz was almost completely destroyed during the Second World War but was rebuilt with great dedication and a love for the old building fabric. It now presents a coherent, historically mature cityscape.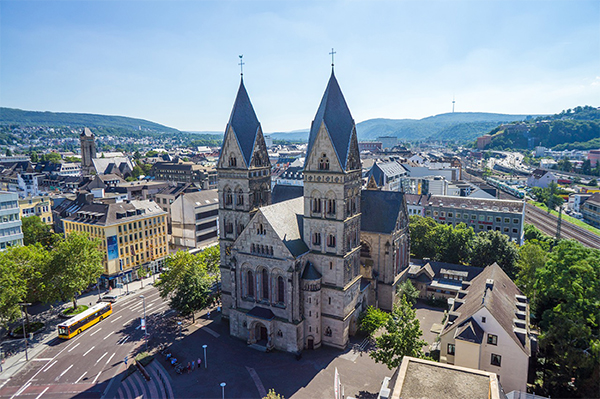 Koblenz was literally in full flower in 2011 when the city hosted the Federal Horticultural Show. It was a feast of colour for visitors and inhabitants who continue to benefit from the beautifully laid out flower beds and landscaped parks.
On-trend location in the surrounding area: Montabaur
Porta Mondial franchise partner Andrea Regnery believes that prices are still developing in Koblenz. She is of the opinion that prices will continue to rise although not as dramatically as in recent years. Today people – and young families in particular – are already moving out to the surrounding area, as they can no longer afford a house in the city. One of the most notable alternatives to Koblenz itself is the attractive area of Montabaur . There is much building going on here at the moment, and the new-build Quartier Süd district is currently one of the sought-after investment projects in this conveniently-located little town.
Are you considering the sale of a property in Koblenz?
We will find the right buyer for your house or flat. Find out about the modern marketing options that an international network offers you. Avail of our free valuation service. Give us a call on +49 261 973 493 60 or send an e-mail to koblenz@portamondial.com. We look forward to hearing from you.
If you already have an idea of what kind of new property you would like, get in touch with us. We will undertake a targeted search for your dream property, entirely in line with your wishes.
Porta Mondial Koblenz - your estate agency for Koblenz.
Our properties for you in Koblenz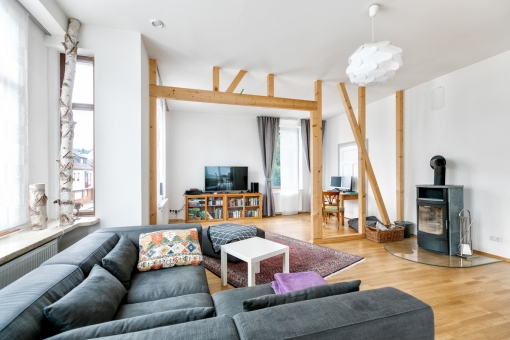 Neuwied, Wunderbare, hochherrschaftliche Villa aus 1905 mit...
constructed area:
280 m²
plot area:
1.400 m²
bedrooms:
6
price:
€ 545,000.-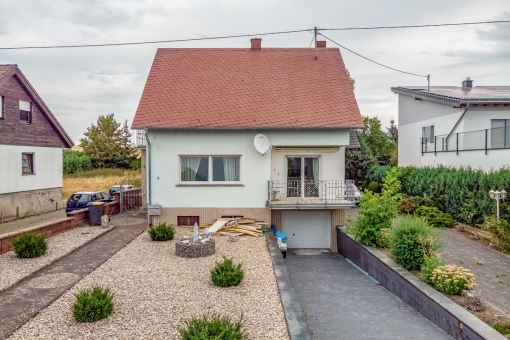 Binningen, Liebevoll renoviertes, herrlich gelegenes...
constructed area:
93 m²
plot area:
311 m²
bedrooms:
3
price:
€ 178,000.-
Here you find all properties of Porta Mondial Koblenz
Your property consultants in Koblenz
We are happy to place our lengthy experience and precise knowledge of the city of Koblenz and the surrounding area at your disposal, if you wish to purchase your dream property. Our special advantage is our outstanding network that Managing Director Andrea Regnery has built up here over the years with her Cura insurance agency. Memberships in the most important regional business associations such as the Marketing Club Rhein-Mosel, BNI Vorderer Hunsrück, BVMW Rhineland-Palatinate and the Junior Chamber Rhine-Lahn complement her personal network and accentuate her proximity to urban development and the market that are so important for an estate agent.

Andrea Regnery and the team at Porta Mondial Koblenz have made it their mission to fulfil each client's wishes and to find their dream properties in the Koblenz area. We will accompany you all the way from search and selection to key handover. We are happy to advise you on financing options and will provide you with tips on planning your move. With regard to legal and fiscal aspects, on request we can advise you in conjunction with a respected law firm.

Special clients for special properties deserve special service. Porta Mondial clients first and foremost appreciate our consultants' precise local knowledge, as well as their extensive market know-how. Discover the quality of our services for yourself. You can contact our consultants by telephone on
+49 261 973 493 60.

Andrea Regnery
Owner

Mobil: 0176 203 702 69
andrea.regnery@portamondial.com
Languages: German, English
Contact us
Do you wish to buy or sell a property in Koblenz? Give us a call. We offer personalised advice. You can contact our property consultants seven days a week on +49 261 973 493 60.

Or write to us. Simply use the form below or send an e-mail to koblenz@portamondial.com. We will reply to you without delay.






Thank you very much for your enquiry!

We will send you the required information immediately.

Or contact us by calling.
Our consultants are at your disposal 7 days a week.
Imprint
Information in accordance with §5 TMG (German Telemedia Act):
Porta Mondial Koblenz
St.-Josef-Straße 25
56068 Koblenz, Germany

Represented by:
Andrea Regnery (Owner)

Contact:
Tel. +49 261 973 493 60
Fax +49 261 973 493 61
E-Mail: koblenz@portamondial.com
VAT:
VAT ID number pursuant to § 27 a of the Value Added Tax Act:
DE 311391033

Supervisory authority:
Municipality Administration Vallendar – Business
Rathausplatz 13
56179 Vallendar, Germany

Permission according to §34c Gewerbeordnung (GewO):
granted by the City of Vallendar, Municipality Administration, 30th March 2011

Responsible for the content of www.portamondial.com/de/koblenz and www.portamondial.com/en/koblenz according § 55 Para. 2 German Interstate Broadcasting Treaty (RStV):
Andrea Regnery
St.-Josef-Straße 25
56068 Koblenz

Information on Online Dispute Resolution
The EU Commission provides an online platform for online dispute resolution at the following link:
http://ec.europa.eu/consumers/odr
This platform serves as a focal point for the extra-judicial settlement of disputes arising from online sales or service contracts, in which a consumer is involved. The provider is neither willing nor obliged to participate in a consumer dispute resolution procedure in accordance with the VSBG. Our e-mail address is koblenz@portamondial.com.
Liability for contents
As a service provider, we are responsible in accordance with § 7, Para.1 of the German Telemedia Act (TMG) for our own content on this site in accordance with general legal provisions. According to Articles 8 to 10 of the TMG, as a service provider, we are not however obliged to monitor or, under certain circumstances, to investigate externally transmitted or stored information or to look for indications of illegal activity. Obligations to remove or block the use of information in accordance with general laws remain unaffected. Any liability in this respect, however, is only possible from such time as we receive knowledge of the specific breach of law. Should any legal violation come to our attention, we will remove the offending content immediately.
Liability for Links
Our website includes links to third-party external websites, over whose content we have no influence. Therefore, we cannot accept any liability for these external contents. Individual providers or operators of the linked pages are always responsible for their content. The linked pages were checked for possible legal infringements at the time of linking. Illegal content was not apparent at the time the links were created. Continuous monitoring of the content of linked pages is not, however, reasonable without specific indications of legal violations. Should any legal violation come to our attention, we will remove such links immediately.
Copyright Law
The content and works on this website which were produced by the website operator are subject to German copyright law. Copying, editing, distribution and any use of the contents outside the limits of the copyright laws require written consent from the author or creator. Downloading and copying these pages is only permitted for private, non-commercial use. Where the content of this website was not created by the website operator, third party copyright has been respected. In particular, third-party content will be identified as such. Nonetheless, if you become aware of any copyright infringement, we request that you provide us with the corresponding information. Should any legal violation come to our attention, we will remove such content immediately.
The Legal Information section also applies to the following social media profiles:
Facebook: https://www.facebook.com/PortaMondialKoblenz/